Have you heard of the social network community for bloggers that's called Blog Engage? I wrote a few blog posts about them on this blog in the past. This isn't a free social community for bloggers but a paid membership one with lots of good benefit's. If you want to know what us members get as in features, then visit the Blog Engage homepage and check out the RSS Syndication page for the account details. Now if you are good at promoting affiliate programs and want to make money with one then consider becoming an affiliate for Blog Engage and make residual income building up a downline.
It's free to sign up to their affiliate program and their affiliate program is hosted on its own domain called Affiliate Lites. If you sign up now, you could be promoting within a few minutes. There are a lot of banner images of all different size's and designs to choose from. If you don't want to write-up a review or add some emails into your autoresponder list then slap up an image on your blog or website. The reason why this is a paid membership community is because the owner wants to keep the spammers and low quality content submitters away from this site. Also there are contests run with cash prize's. Well worth the money to become a member.
Example affiliate material image: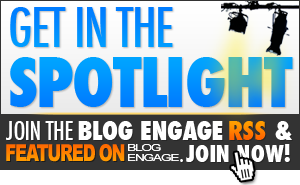 There are five different packages for people to choose from when signing up. This means that your monthly revenue can be a lot if people sign up with the more expensive packages. Either way, if you can get a few converts each month, the monthly revenue will slowly build up. Right now it's a $50 payout thresh hold to get paid. PayPal is the only form of payment at this time. If you are a blogger, you really should become a member and enjoy the benefits. You could also make residual income by referring people to through your affiliate link to pay for your membership. I love submitting my blog posts to Blog Engage and when there affiliate program Affiliate Lites started up, I jumped on board and joined right away. I've made a few sales but not going to mention how much I am earning.
I know other people can do better if they have a huge email lists of spenders. I don't do email marketing so I'm missing out on making money off email marketing but I prefer not to spam people via. email.
Have a great week and feel free to contact Brian the owner of Blog Engage through his website if you have any question's about the affiliate program or an account on BlogEngage. He is a nice guy to talk to and will answer your questions when he is available.
To Your Success